Mexican Quartz Heart Necklace by Tita Lopez
$180.00
Regular price
Unit price

/

per
Each piece is made of hand-carved quartz by Mexican artisans, and each is unique and fulfills a special function. All materials are sourced in Mexico and are worked by master artisans who are skilled in carving quartz. Every design takes hours of painstaking work to acquire the desired shape you see featured. With every purchase you keep this art alive and support the artisans behind these beautiful pieces.

Once Tita receives the hand-carved quartz, she adds a wire wrapped crown of beads to add an additional touch of magic.
Rose Quartz is the stone of compassion, love, and kindness and of universal love.
It is recommended that you recharge your quartz every 28 days in water, salt, under full moon or on earth.
Details
Material: (Quartz or stone as described) pendant, gold-plated chain

Pendant: 1.5" H x 1.5" W
Specification: Hand-carved quartz in the shape of a skull with wire-wrapped crown beading and gold-plated chain
Care Instructions: Do not wet or wear when you are showering.
This item should be kept in a dry space when not wearing.
__________
About the designer & artist
Tita López is a multifaceted artist dedicated to art and jewelry design. So, it's easy to see how the inspiration to create each piece is born from her paintings and art pieces and how they are intertwined in singular harmony. Theta uses the natural forms of quartz, a pure element of nature; each piece is hand carved through artisanal ways dating back to pre-Columbian times, considering that they are unique pieces with all their qualities intact. The objective is to maximize the artisanal method using local products such as quartz and silver and combine it to designs inspired by the mysticism of Mexican culture fusing tradition and art.
These designs speak of a spiritual dialogue between women and nature, transforming each piece into a declaration of individuality and freedom. Tita's jewelry pieces have a voice, they are not timid, and they are deeply original and linked to her Mexican culture. Her line of catrinas and sacred hearts is a tribute to a woman of art connected to her culture and roots. It is for the singular women who change history and forecast the future of Mexican pride. Tita López creates Mexican artisanal jewelry that is a declaration of love for the beauty of Mexico. Tita works conscientiously with the men who work in the mines and the artisans who carve the courts to create talismans for the spirit and the heart. Each piece is a part of a limited-edition series, and each expresses an intimate bond, ritual, and magic.
Quantity selected exceeds current stock
Adding product to your cart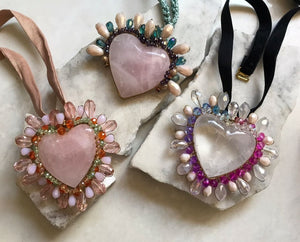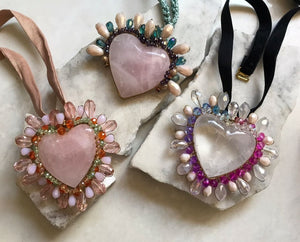 Mexican Quartz Heart Necklace by Tita Lopez
Recommended
We think you might also like these.