Tierrabomba: Colombian Designer SP Fuchsia Thread/Aqua Dagger Pendant Earrings
$74.99
Regular price
Unit price

/

per
Near the colorful city of Cartagena, is the island of Tierrabomba. The scene of many pirate stories, this place is known for its abundant flora, its birds and its bioluminescent plankton. These earrings are inspired by those colors that appear on dark nights at sea.
These earrings are made with a central zamak ring and woven with a fuchsia rayon thread using artisanal basket-weaving techniques. They are decorated with African vinyl discs in blue, petal-shaped gold pendants, Czech crystal daggers in aqua tones and medal shaped lime green pendants.  They are very light, very versatile, and can be used in all seasons.  
All the silver pieces are in zamak (aluminum, magnesium and copper alloy). They are nickel free.

The earring pin is made of titanium in order to avoid any allergy.

Measurements: 6cms long and 5cms wide.
About Araracuara
Araracuara is a contemporary ethnic jewelry brand inspired by Colombia's vast array of natural beauties, wishing to highlight the beauty of the artisanal world. It stands out for its color and the mixture of different techniques and materials. Each piece is made up of beads that come from different parts of the world and are manufactured in very small quantities. They are made entirely by hand with top quality materials. This being a signature product, it always looks to exalt the originality of the people who wear it: powerful women wanting to stand out, be unique, attractive and different. Araracuara is designed by Alejandra Arias, a Colombian living in Barcelona, an architect by profession and an eternal lover of details and color. Since my time at university, I was always drawn to the artisanal world and jewelry. What started as a hobby in 2000, has now become a project that I am still building up and to which I have had the pleasure of dedicating a lot of time to and above all, a lot of soul and heart. Each one of the pieces is made with special care and attention to detail. I always want to tell a story through them and bring whoever wears it a piece of that color and that magic that the Colombian Caribbean has. I hope you enjoy wearing them as much as I've enjoyed making them.
Quantity selected exceeds current stock
Adding product to your cart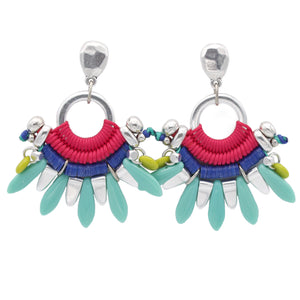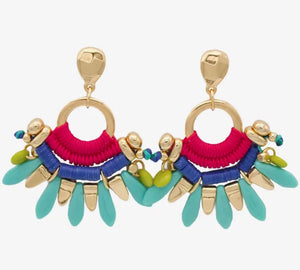 Recommended
We think you might also like these.