Strands Cotton Necklace Handmade Fairtrade Lightweight
$46.00
Regular price
Unit price

/

per
Strands of several organic cotton cords are clustered together to make up this gorgeous necklace. An uncommon, playful and colorful design that goes well with any outfit. An acai seed button for closure finishes the back.
About Muichic Natural Jewelry
Muichic (moo.e.sheek) is Fair Trade, natural jewelry designed in Vermont and ethically handmade in Colombia. Using Tagua seeds and other natural raw materials we believe in fun, natural fashion, blending chic design with eco-consciousness. Unique accessories that are environmentally friendly & gracefully chic make up our natural collection. Our main raw material: After drying, Tagua seeds become rock solid resembling ivory in color, texture and hardness, hence their nickname: "Vegetable Ivory". These dried, hard seeds are polished, cut, dyed, and shaped into beads that become Muichic's natural jewelry. Organic and Sustainable: Tagua is naturally organic, it grows wild throughout the rainforests of Colombia. Tagua is sustainable, the seeds are harvested only when the fruit is ripe and has fallen to the ground, this allows the Tagua palm trees to provide valuable habitat to animals, and also assists with rainforest preservation by preventing the cutting of trees for farming or cattle.
Quantity selected exceeds current stock
Adding product to your cart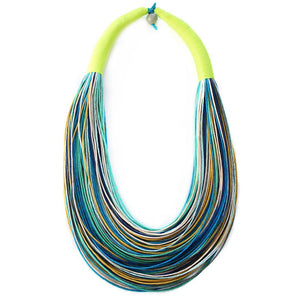 Recommended
We think you might also like these.