Jean-Michel Basquiat
$40.00
Regular price
Unit price

/

per
Text by Dieter Buchhart, Glenn O'Brien, Jean-Louis Prat, Susanne Reichling.
A superbly produced retrospective on the luminous career of Jean-Michel Basquiat
The first African-American artist to attain art superstardom, Jean-Michel Basquiat (1960-1988) created a huge oeuvre of drawings and paintings (Julian Schnabel recalls him once accidentally leaving a portfolio of about 2,000 drawings on a subway car) in the space of just eight years. Through his street roots in graffiti, Basquiat helped to establish new possibilities for figurative and expressionistic painting, breaking the white male stranglehold of Conceptual and Minimal art, and foreshadowing, among other tendencies, Germany's Junge Wilde movement. It was not only Basquiat's art but also the details of his biography that made his name legendary--his early years as "Samo" (his graffiti artist moniker), his friendships with Andy Warhol, Keith Haring and Madonna and his tragically early death from a heroin overdose. This superbly produced retrospective publication assesses Basquiat's luminous career with commentary by, among others, Glenn O'Brien, and 160 color reproductions of the work.
Jean-Michel Basquiat was born in Brooklyn, New York, to a Puerto Rican mother and a Haitian father--an ethnic mix that meant young Jean-Michel was fluent in French, Spanish and English by the age of 11. In 1977, at the age of 17, Basquiat took up graffiti, inscribing the landscape of downtown Manhattan with his signature "Samo." In 1980 he was included in the landmark group exhibition The Times Square Show; the following year, at the age of 21, Basquiat became the youngest artist ever to be invited to Documenta. By 1982, Basquiat had befriended Andy Warhol, later collaborating with him; Basquiat was much affected by Warhol's death in 1987. He died of a heroin overdose on August 22, 1988, at the age of 27.
Featured image, "Now's the Time" (1985) is reproduced from Jean-Michel Basquiat.
FROM THE BOOK
"Basquiat borrowed from anything he was capable of perceiving with his five senses. It is the stuff of his environment and his everyday life that he collages. It is his appropriation of the commonplace, of the incidental as much as the ostensibly meaningful that makes Basquiat's art so distinctive and so unique. His work is based on knowledge, yet he samples from whatever surrounds him or whatever he surrounds himself with. He copes consciously, introduces accident as an artistic strategy, and shapes found aesthetic material into his own aesthetics--just like the cut-and-paste sampling of today's internet culture. Basquiat's approach is still so utterly contemporary that his works are an inspiration to today's younger generation. As Fab 5 Freddy so succinctly observes, 'I think Jean-Michel lived like a flame. He burned really bright. Then the fire went out. But the embers are still hot.' Yet Basquiat the myth should by no means blind us to the highly compelling and single-minded Basquiat the artist. Jean-Michel Basquiat was just as much the forerunner of the knowledge society as he was of the cut-and-paste generation, an artist who anticipated the ways of the Internet years before it had emerged in its current form." Dieter Buchhart, excerpted from Jean-Michel Basquiat: A Revolutionary Caught Between Everyday Life, Knowledge, and Myth in Jean-Michel Basquiat.
Quantity selected exceeds current stock
Adding product to your cart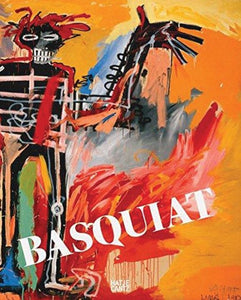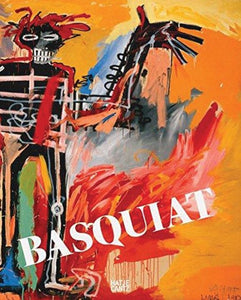 Recommended
We think you might also like these.